Virginia Cooperative Extension's credible experts and educators share university knowledge, information, and tools you can use every day to improve your life.
Follow Extension's news blog →
SmartFarm Innovation Network
Harnessing technology to drive future economies
THE VISION
Create a decentralized network of interconnected centers across the commonwealth where Virginia Tech's interdisciplinary researchers and Virginia Cooperative Extension specialists can partner with industries to develop and deploy innovative technologies to increase overall efficiency, resilience, and sustainability of food, agricultural, and natural resources production systems.
Navigating VCE's new interactive publications
Your browser does not support iframes. Link to iframe content: https://www.youtube.com/embed/bGpGNCtiQHY
Learn more about the interactive format of VCE's enhanced digital publications.
Be sure to follow VCE on social media for updates and links to the latest publications.
Agency 229 Matters
Explore how Agency 229 is making a positive impact in Virginia homes, classrooms, farms, and communities.
The Impact of Agency 229
Funding provided by Agency 229 produces impacts that touch every sector of Virginia's economy. 
Virginia State University College of Agriculture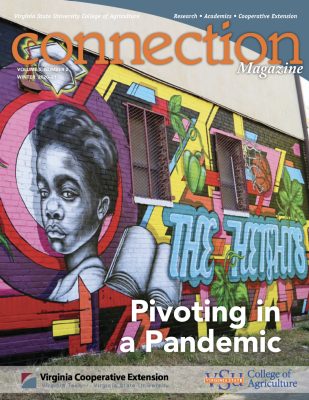 The latest edition of Connection Magazine keeps you connected with Virginia State University's College of Agriculture and Extension programs.
The latest edition of Clover Connection is available!
Your browser does not support iframes. Link to iframe content: https://www.youtube.com/embed/AXH8ltDT4JE?rel=0
In April 2018, a group of 4-H'ers from Halifax, Virginia, spent their spring break doing volunteer work in Rockport, Texas.
Each year, more than 17,000 youth participate in 4-H camping programs at Virginia's six 4-H educational centers.
Raise your hand to support 4‑H in your community and give kids the hands-on learning experiences they need in life.